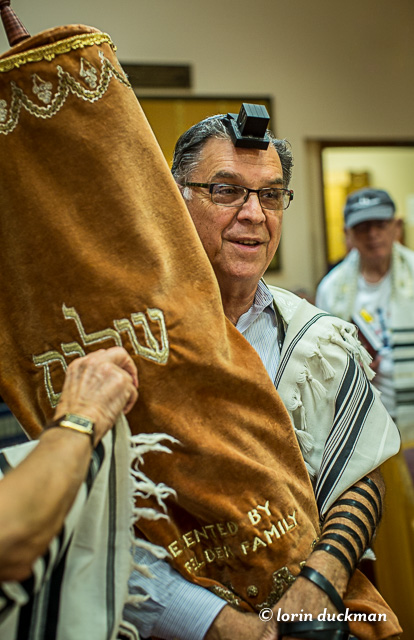 So, at his funeral service, which I didn't attend because Sharon and I were out of town and didn't know about it, the presiding Rabbi said God didn't take Cantor Sapir, he took himself.
Why? I don't know. I wish I knew before he did it. Many wish they did, too. Could we have helped him? Who knows? Everyone must make their own decision when to live and when to die. Some may need to be told how much they are loved.
I didn't know him well or for so long. We were the same age, almost. I envisioned growing old with him, learning more about all the things he knew: music, humor, talmud and the meaning of life. I don't have many friends; he could have been one.
Cantor's voices connect prayers with God. Efrain loved to sing in Temple, using melodies to rid the congregants of self-consciousness, elevating their thoughts and minds to holy places. He'd pause between some phrases to look out into the audience, listening for proof he had connected, him to them and them to the angels. He once told me that he had observed me banging my prayer book on a pew during a prayer and that I had used an alternative beat. I sit in the last row; how observant.
We did a photo shoot in my studio, a formal shot for the hallway and the Temple Anshei Shalom bulletin. It took two hours. He was dressed perfectly, hair groomed, suit/shirt/tie selected for the occasion. We exchanged stories, listened to cantorial music and played with the lights. During one song by a noted Cantor, he explained the guy was just singing nonsense words, because the music was so beautiful and he wanted to sing along. I told him, after the shoot, how handsome he was and what a joy it was to photograph him. He said he never saw himself as being so good looking and that my images made him very happy.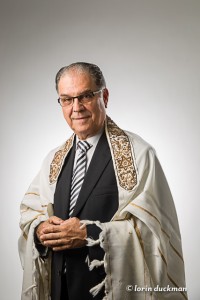 The shot of him holding the Torah after the reading was the last shot of him. Taken two weeks before his death at Morning Minyan, it is not my usual kind of photograph. He isn't looking at the camera and really doesn't know or care I am in front of him. I usually go for the head, but I was drawn to his hands and the words on the Torah cover. You can see the joy in his heart, his love of Torah and feelings for humanity.
The Photo Gods helped me shoot this image. I wish God had helped me with fix his self image. He was a beautiful man, a significant man. My life will be less without him. You see, sometimes it isn't how long you know someone but how well.