Civil Rights
by duckshots on Jan.03, 2012, under art, City Hall Park, Civil Rights, government, Homeless, photography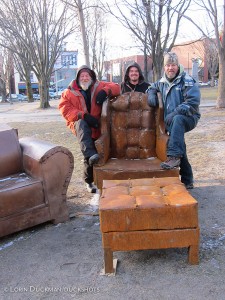 Larry Glen and Kevin couldn't decide if the pieces which look like furniture were art. They had no trouble deciding that, on this cold day, it wasn't a good idea to sit on either the sofa or the chair. Both are made of metal and it was 5 degrees.
I mean, what is art? The chair image ain't the chair; it represents the chair, lacks the function of the chair, has its design, but it ain't real. It must be art, eh? Too cold, though to talk with these connoisseurs about the topic. It was too cold to even have a camera; I shot with Canon S90, which I kept in my pocket where it fogged up.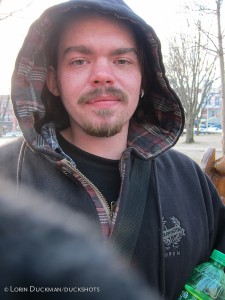 Kevin came from Barre. "Don't drink the water there," I was told when we came to VT. He has stage 5 colon cancer. In town to go to the doctor and see his social worker, he hopes that Make a Wish will send him to Japan for his last fling to see amime and the life there. He don't care about cold. He's still alive. Go live, my man. You have courage.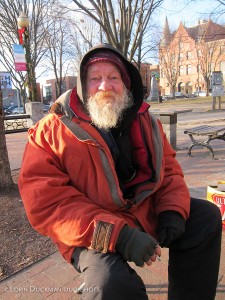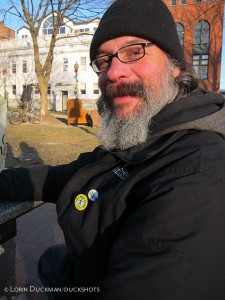 Larry and Matt Sweet have a tent. No way these guys do the shelter thing; too many rules. Know how to camp in the tent. Keep out the drafts and cold air.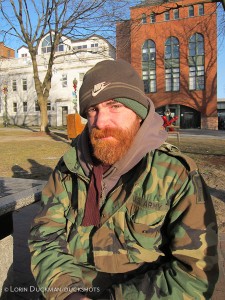 Joe knows some kids, maybe college kids, who let him sleep in a utility room. They give him beer, pot, and food. He offered me some of his pina colada. Not exactly a drink I would drink, assuming I would drink in the park on a day like this, even if I were thirsty or going through withdrawl. I associate pina coladas with warm weather and tropical breezes, not sub arctic cold.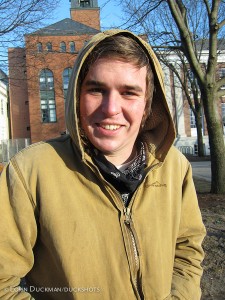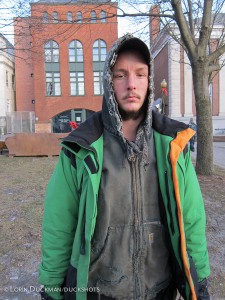 Connor and Country. I cannot be sure. They were looking for someone or something, they thought.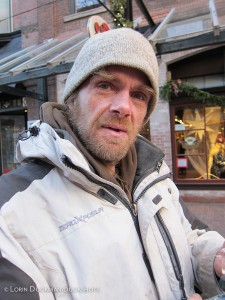 Keith came out for tobacco. I could not see coming out for something to smoke. A hospital appointment, sure; you got nowhere to go or you don't know where you are, sure; but tobacco …. What a country. We all get a vote, too.
Damn, it was cold. And the cold doesn't usually bother me. Tomorrow, colder. Joe said only the really hard core would be out tomorrow. We will see.
Leave a Comment
:cold, constitution, social justice, street people
more...
by duckshots on Jul.12, 2011, under burlington, Church Street, Civil Rights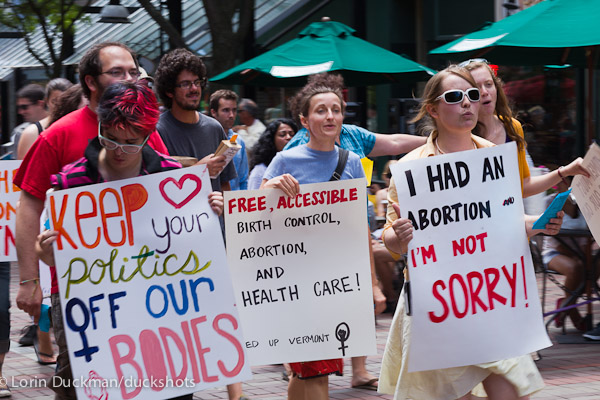 While it seems to be deja vu all over again, the hanger has been offered again as the low cost tool for eliminating an unwanted pregnancy.
Leave a Comment
:
social justice
more...