by duckshots on Jun.08, 2011, under burlington, Church Street, photography, suicide
Given a choice today between alive or dead, today Paul chose, "dead." He's having a tough time being down and out this Spring. Beaten up and robbed while sleeping in a doorway, kids on bicycles jumped him, broke his guitar; and left him bleeding and bruised. Three days later, he appears to have healed physically, but cannot figure out what he wants out of life or where he wants to do it. He's not presenting all that well these days.
I suppose he has a right to end his life, if that is what he wants. No reason he cannot; more reason he shouldn't, though I have a problem outside of the Judeo/Christian creed documenting the lack of moral justification for not doing it or coming up with some argument to dissuade. But why stop being alive or take the chance of an accidental termination of existence?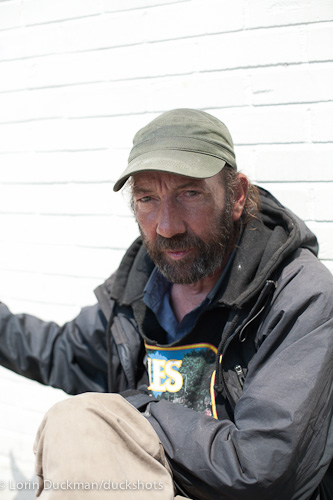 Perhaps, for him, its the weariness of living. He says, when he is not ranting about one unfairness or another, that the loneliness of a life without his wife offers little comfort. She allegedly did everything for him. Could it be a life threatening illness for which there is no cure? No records of this. Is he in pain? He complained about coughing up blood and being forced to take IV cancer drugs last year. But a hospital stay at the end of Fall didn't disclose any continuing disability. Weariness of life; not wanting to wake up whenever he wakes up wherever he lay down, that must be the reason.
The recently found family has once again retreated or been pushed away. Financial worries can't matter, since he has no expenses, assets, or possessions. His spotted resume posits limited accomplishments. He points to a period when he practiced photography, though he won't give up the name of the person who has his works or equipment, recalling a major presentation at Frog Hollow in Middlebury. The last job entry, one after his departure from Valley Vista, house painter, lasted for only a couple of days, ending, allegedly, because his clothes were "not dirty enough" to indicate he had painted a sufficient assigned area. He had a room then, which he lost for not paying rent, a justifiable failure he blames on not wanting to live amidst drug users and drunks who put his safety at risk. And he disdains talking to kids in therapy groups about problems he considers too mundane. So, for him, what's left?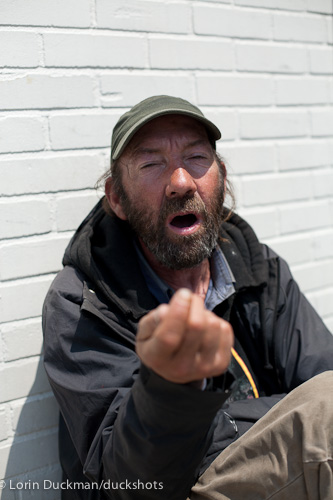 I can understand his unwillingness to deal with life's bullshit. I mean you have to attend to yourself and your surroundings. Damn. You have to keep your clothes clean, your teeth brushed, and you abode neat. People only do these chores when they have to; and spare us the ones who enjoy the regimen or don't appreciate how life draining not being intellectually creative or physically active can be. Oh, I love to vacuum and fold clothes. What would I do if I didn't work? Oh, my.
No wonder people play golf and go boating (those who can) or play cards or hike or bike or watch TV or draw or listen to music of go to the movies or volunteer or gamble or pray or paint. They have nothing else to do. Where do the hours go? And food. You not only have to shower, but you have to find food to eat, especially if you don't grow it or don't have money to buy it. It can be a pain in the ass to go to City Market or the Food Shelf for a meal. It can also be a hassle to have to shop, cook, and clean the dishes.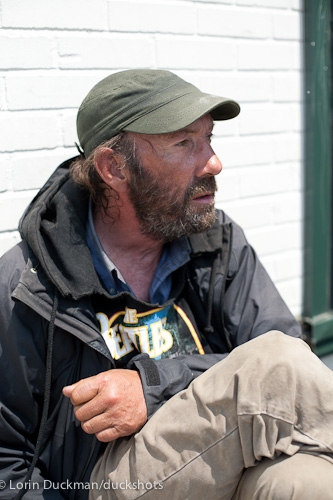 Paul seems singularly uninterested in the problems of others, which is understandable, too. Everyone has some story, as banal as it may be to one who has battled and won or battled and lost, which he says he is. People, he says, take advantage of him, stealing from him and using him. Yet, he stays connected to some, if only to sit on the street and beg with them or share a can of beer. But he is also equally uncommitted to aiding his own cause. Sadly, he lacks the joie de vivre of Jeff Lebowski, too, which makes him much less attractive this time around. Can it be that what Paul does, sitting with his hand out on the street, is fun?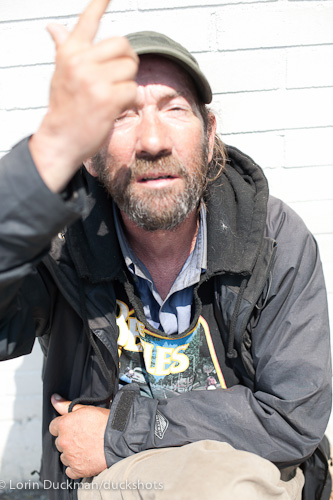 I gave him a dollar, anyway. He asked for two.
:social justice, street people