by duckshots on Mar.31, 2015, under art, photography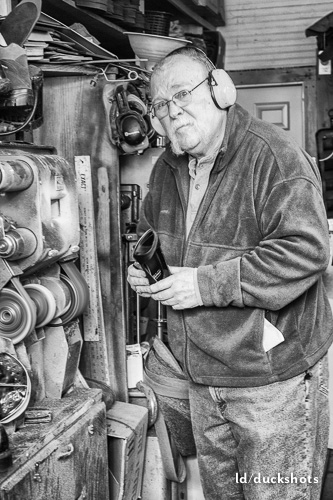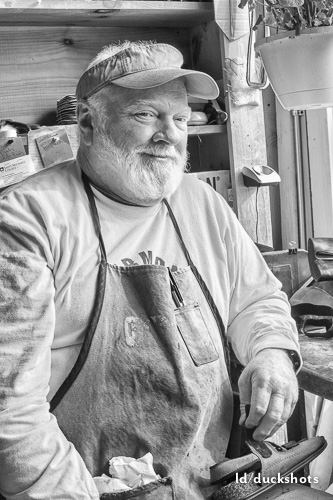 Steve and Fred Hopkins fix shoes, leather shoes. They fix bags, leather clothes, and items made from the skins of dead animals. Working in a little shop in Winooski, VT, they provide a service soon to become extinct. They will be missed as much as polar bears and telephone booths, whose disappearance will come for different reasons, and there is nothing we can do to preserve either.
Time was when a community couldn't function without a cobbler. People wore leather shoes, carried leather bags, controlled horses with leather reins. Now, who wears leather shoes? Old people. Who rides horses to work? Synthetic totes are more weather resistant and lighter weight. How about women wearing heals? Not so prevalent anymore. And worn is the norm.
Six cobbler shops remain in VT. Hard to find apprentices. Pay is low. Takes a while to learn. Have to stand up all day. Air isn't all that healthy. Cannot find help. Cannot find customers.
But, to a person who loves their shoes, people who have a pair of work shoes or cap toes or penny loafers, to have heels that protect the step and soles that protect the soul, not to forget the bottom of the foot, price doesn't matter. The fit the foot and look good. A brain doesn't work as well if the feet don't feel comfortable. Good shoes can make the outfit. These leather doctors can make a person feel and look as good as a dentist or hair cutter.
Leave a Comment
:
cobbler
more...