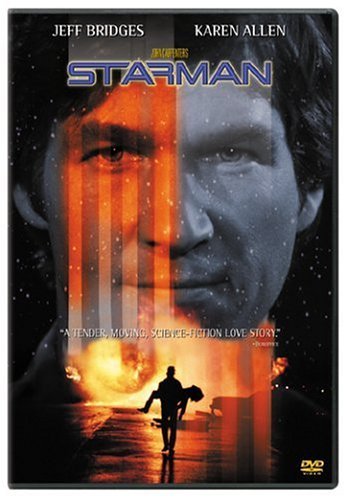 "You are a strange species. Unlike any other, you are at your best when things are worst." Not sure I agree with him. The tougher it gets, the more right wing conservative, stingy, and hateful people seem to become. The government becomes less creative. The people become more fearful and protective. If a good alien like Starman would land in Wisconsin tomorrow, the reception no different than what happens here. The Government would try to capture him. Not realizing he had transformed himself, but still possessed other worldly powers, they'd nuke him just to be sure he could not spread his seeds or undefined evil intentions.  When he didn't die, although much of cheese land would have been destroyed, that being the price of eliminating someone you don't understand, Barry could meet with him, seeking an answer to the leak in the Gulf. Rahm could send Bill to arrange the meet and suggest there could be a job in it if he stayed, especially if he became a Democrat. We certainly are a strange bunch, Starman!
Revisiting Jeff Bridges movies to understand and appreciate his longevity and better understand my affection for him. Praise be to Netflix. I began with Last Picture Show and In Search of America, but not here. This movie made in 1984, stands the test of time without much stress. Appropriate year for such a flick, too. How many sci-fi romantic road movies are there? Just him and Karen Allen. Not much dialogue; lots of ballet. Jeff  is as innocent here as Lebowski, an outsider with more questions about how we creatures of the earth survive, wanting to learn how to do so. He figures out quite quickly that we operate on a simple plane, oblivious to our responsibilities our surroundings, and especially oblivious to the rest of the universe. He just want to survive and get out of here.
So innocent and awkward, he has no idea who he is as a member of the family of earth. Limited by the words he learns from a disc sent up with the Voyager in 1977 and the lessons he gets from the Karen Allen,  a woman of less than worldly experience whom he teams up when he lands in Wisconsin, of all places, after being shot down by whatever predecessor to Homeland Security was protecting US at the time. Lucky. Well, the beginning is good. Then it dissolves into an amalgam of others of the same ilk: The Day the Earth Stood Still, Close Encounters, and The Man Who Fell to Earth. Bridges, however, creates a unique character who is both all of the other leads and his own whimsical adaptation of a Brother From Another Planet.
A homophobic bathroom encounter seems well ahead of its time. Nothing bad, either, about driving from Wisconsin to Arizona with the Government on your tail. You know they will make it, right.
Not unlike Tarzan, he learns to eat, drive, shoot a gun and have sex, never exactly fitting in, though doing enough to get along and not get beat up or killed. Not sure why, except to satisfy audience demands, he saved a deer shot by a hunter using his magic powers or how he learns how to drive a car, but he does. He also should have given Allen all of his superior talents and knowledge rather than leaving it in the form of a magic ball for the kid he made with her when they fucked without contraception. Social responsibility hadn't hit the galaxy yet. Now she has to raise the kid without means, ken, or understanding. And what does she say when asked who the father was?
As trite and repetitive as the oft told story is, Bridges plays it with softness and wonder. Kidlike, he just wants to learn as much as he can, knowing that he only has a three days to reconnect with his rescue ship or he will die. He takes her hostage, so she thinks. Then they fall in love, something kidnap victims have a tendency to do, that is just the American way. Stockholm Syndrome.
When Allen leads him across the plains in search of the rescue ship, he looks dumber than the rocks he slips and slides over. He trusts her to lead him to safety. Hell, she did it for Indy, right? He has to leave and he cannot take her-she would die on his planet. He has learned love, a particularly earthly emotion. At the end, he just wants to learn how to say "good-bye." The ship arrives. He leaves. No sequel.